The Sacramento COVID-19 Homelessness Response Team is working diligently to ensure that our unhoused neighbors remain safe during the onslaught of COVID-19.  That work takes many forms, including providing meals and water to those isolated in hard-to-reach encampments, providing shelter to highly-vulnerable people, spearheading COVID-19 testing and vaccine awareness, and locating stable housing for clients.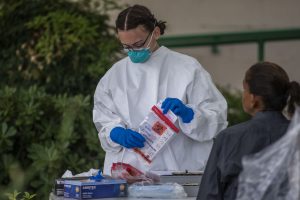 The Sacramento COVID-19 Homelessness Response Team put into motion the Sacramento COVID-19 Homelessness Response Plan on April 8, 2020.
In the past 13 months, our work has been incredible and wide-reaching.
We have provided shelter and services to more than 1,300 individuals. Our partners have helped us deliver more than 70,000 meals to those sheltering in place in encampments.
Through targeted education and outreach campaigns, we have helped partners administer 1,228 vaccines to individuals experiencing homelessness in Sacramento County since February 2021.
But we're not stopping there. We have an ambitious plan to house hundreds of at-risk individuals experiencing homelessness who have been served through our COVID-19 efforts. 
We will continue to strengthen the partnerships and momentum that have been building during this pandemic. We know that we are stronger together. Sacramento is filled with people who care and organizations dedicated to ending homelessness. We will not give up.  
Some of the people we have already helped include Elouise Lamkin, who was diagnosed with COVID after living on the street.
Ralph Matta was attacked and terrified of COVID. At our Cal Expo trailer site, he feels hope for what might be the first time in decades.
Marie Diaz was shot on Del Paso Boulevard and lived daily in fear of contracting a virus that could kill her because of pre-existing health conditions. Now, she makes meals for her neighbors in a Sacramento motel.
We owe so much to our amazing partners who have made this work happen: the County of Sacramento, the City of Sacramento, Sacramento Housing and Redevelopment Agency and endless others who have helped us accomplish great things in the face of adversity.