Text: Hannah Beausang 
Photos: Hector Amezcua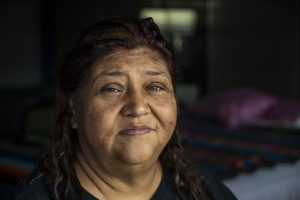 Marie Diaz never expected she would be shot at on Del Paso Boulevard. She never thought that strangers would spit on her when they passed her as she sat on the street with her belongings piled next to her.
She never imagined she'd be fighting to survive on the streets of Sacramento when she was 53. 
Things moved quickly: her health deteriorated, her housing evaporated and she was terrified as an unprecedented pandemic held the world in a chokehold. Sleeping outdoors was even more challenging when COVID-19 swept through Sacramento: public bathrooms were closed, she was separated from her husband and she was deeply frightened about contracting the virus.
"I was so concerned about catching it – there's the sanitation part and then there's me suffering through a lot of my health conditions, which puts me at a higher risk for the whole thing," the Sacramento native said. "The doctor would say 'You need rest. Put your feet up.' That's all fine and dandy if I had a place to do that, but in reality, I didn't, so how would I? I was in the heat. I would even go to a place off 7th Street that had a pond and I would just try to keep cool." 
In April, after she had been without housing for about a year, she overheard conversations in Cesar Chavez Park about how members of the homeless community could access help during the pandemic. She got in contact with an outreach navigator from Sacramento Steps Forward, who was able to quickly find her a room in a Sacramento motel.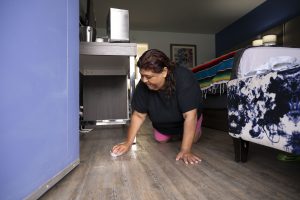 The motel where Diaz is seeking refuge from COVID and the weather is one of four locations in the Sacramento region that are supported by Project Roomkey. The state initiative is intended to provide shelter to unhoused residents who are among California's most fragile populations. 
Diaz is among more than 1,000 highly-vulnerable homeless residents who have been provided with shelter in motels or trailers through a regional partnership between the city, county, SSF and the Sacramento Housing and Redevelopment Agency launched April 8. 
"(The navigator) worked miracles and got me in here and ever since, everything has been 100 percent," Diaz said. 
She gets three meals a day. She has security. She can lock the door behind her and know that she's safe. 
"I opened the door and oh my God – just the thought of having the bed, the community, a place to go to the bathroom," she said. "It's clean. It's just the feeling that it's yours. To be honest, when (the Goodwill Industries employee) shut the door, I laid down and for two days, I didn't move. I was taking full advantage of the fact that I could lie down and take a shower when I wanted to. It was great. It was just the greatest feeling of hope and gratitude and most of all – thank God that I happened to get off the street."  
It's the small things, she said, that have utterly changed her life. 
 "The people (at the motel) don't just serve you because it's their job," she said. "They go out of the way to do their job, including the nurses and the medical staff."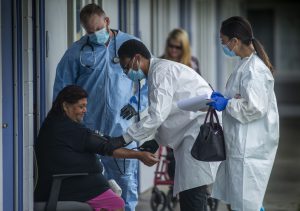 Diaz, who has a myriad of debilitating health conditions, receives only $977 a month in disability checks. That's a far cry from the amount needed to pay for a market-rate one bedroom apartment in Sacramento, which averages $1,481 a month, according to data from rental site Rent Jungle.
In early August, SSF and Goodwill Industry employees conducted an assessment to help pave a pathway to stable housing. The Sacramento COVID-19 Homeless Response Team is working with regional partner agencies to find Diaz a place she can afford with assistance from various programs. 
She feels like she can breathe again. She is overjoyed at the prospect of once again having a home. And, more than anything, she wants to give back to those who are less fortunate than her. 
"I've always been stable," she said. "This is the first time I haven't been stable and with my health conditions, stability would be my main interest. But also, how to reach out to other people. I'm a doer. I make food for people here and I want to continue to do the same thing, even when I get my own place. I want to serve the homeless … this whole thing has made me more grateful – you need to appreciate what you do have because you never know when it will be gone."