Through our collaborative partnerships, we aim to increase awareness about the COVID-19 vaccine as an important public health tool and to increase vaccine equity for people experiencing homelessness. Join us to provide COVID-19 vaccinations across Sacramento County, especially to increase awareness and access among our most vulnerable communities!
Together, as of August 8, 2021, we have administered 1,956 total doses of the COVID-19 vaccines to unsheltered and sheltered individuals. This data is collected from our partner COVID-19 vaccine providers at Elica Health Center, Sutter Health, UC Davis Medical Center, and WellSpace Health.
COVID-19 Vaccine Doses Administered by Type to People Experiencing Homelessness in Sacramento County​
Want to stay up-to-date on COVID-19 vaccination locations and resources in Sacramento County? See our list of upcoming vaccination events, clinics, and available resources here!
---
Updates
We will continue providing COVID-19 relevant updates as new information becomes available from federal, state, and local agencies.
---
COVID-19 Outreach Efforts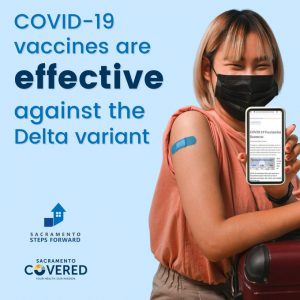 We are taking part in the COVID-19 Community Health Project (CCHP), a state-wide initiative facilitated by The Center at Sierra Health Foundation and California Department of Social Services. Our project supports our most vulnerable communities by providing community education around the health impacts of COVID-19, best practices for COVID-19 prevention, and build COVID-19 vaccine confidence.
We closely coordinate with the Sacramento County Public Health Department and our community partners to encourage people experiencing homelessness to get COVID-19 vaccines, especially at a time where the Delta variant is highly contagious.
We also collaborate with a team of COVID-19 Vaccine Ambassadors, which include community partners who then recruit people experiencing homelessness to act as trusted leaders within encampments and shelters to carry forward the COVID-19 prevention message, further building confidence in the COVID-19 vaccines.
We also promote and provide educational materials developed by The Centers for Disease Control and Prevention and the State of California through our targeted "boots-on-the-ground" and digital outreach.
We regularly facilitate community learning sessions and trainings for our community partners, other interested volunteer organizations, and homeless service providers to improve COVID-19 vaccine acceptability and access. Trainings and relevant materials are made available for public on-demand access.
Learn more about our efforts or inquire about participating! Contact today our Volunteer and Training Coordinator, Kathreen Daria at kdaria@sacstepsforward.org.
---
COVID-19 Outreach Partners
Community-Led Advocacy Program (CLAP) 

Humanitarian Action Network (HAN)

Sacramento County Public Health
Sacramento Covered

SAC Soup/Sacramento Homeless Union

Showers on Wheels for Unhoused Patrons (Show Up)

South Sacramento Homeless Assistance Resource Team (HART)
---
Call for CCHP 2.0 Community Partner Interest
Use your compassionate action and voice to help motivate people—specifically unsheltered and sheltered residents—to take COVID-19 preventive measures that can protect our wider community from this highly infectious virus.
We're taking steps in advance of the CCHP 2.0 application release. Should we be selected to continue this project, we will contact interested parties and provide additional information. Your role as COVID-19 Vaccine Ambassador will be to:
Assess COVID-19 community knowledge, vaccine acceptability, and resource needs in designated areas in Sacramento County
Educate the community about COVID-19 mitigation practices
Recruit and educate Encampment Champions to help promote COVID-19 information, updates, and resources
Assist with coordinating COVID-19 vaccination outreach events
Engage in COVID-19 community learning sessions and/or trainings as they become available
Report COVID-19 activities and community feedback, and provide project recommendations
Confirm your interest in helping to save lives from COVID-19 and ensure vaccine equity. Complete the short interest form at the button below ASAP!
---
COVID-19 Learning & Discussion Offerings
June 14: An introductory discussion on "Providing trauma-informed support in the COVID era for persons experiencing homelessness" with local behavioral health experts! Watch the discussion and see the presentation with resources!

For questions or suggestions around these sessions, contact our Volunteer and Training Coordinator, Kathreen Daria at kdaria@sacstepsforward.org.
---
Provider Resources and Toolkits
Promoting vaccine awareness starts with education. Below are resources to help engage people experiencing homelessness with accurate, up-to-date information about vaccines and other COVID-19 health and safety measures.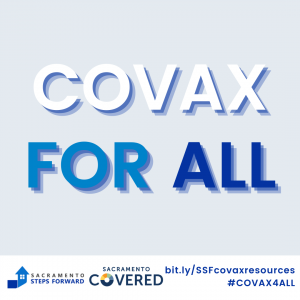 SSF has compiled a toolkit of useful federal and state resources. Click here to download the entire resource guide.
More resources are available below links: