Text: Hannah Beausang
Photos: Hector Amezcua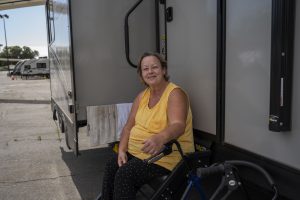 Breast cancer upended Elouise Lamkin's life, but contracting COVID-19 was what unexpectedly brought her back to stability. 
During her battle against the disease, she underwent a partial mastectomy and intense chemotherapy, lost her high-paying job and emptied her savings. When her 401K was depleted, she was forced to move from her Rancho Cordova home, where she had built her life for more than five years. 
After a handful of months spent staying in other people's houses, she moved into her gold 2013 Hyundai Elantra around Thanksgiving in 2018. While others from her former life reveled in holiday merriment, she slept in her car in church parking lots and park and rides. 
Her car was destroyed in the aftermath of an abusive relationship that left her with burn scars across her body, heavy trauma and PTSD. She passed her nights in a tent by the railroad tracks, attempting to stay isolated to avoid the violence that so often plagues single women on the streets of Sacramento. 
"Some people choose to be homeless," the 54-year-old Rancho Cordova native said. "I don't want to be." 
She used the $301 in government general assistance she receives monthly to spend nights in hotel rooms. Feeling ill, she checked into a Rancho Cordova hotel shortly before Mother's Day and went to sleep for 24 hours. 
In her sickness, she accidentally overstayed her welcome: she awoke 24 hours later to a knock on the door from police. Recognizing that she was ill, she went to UC Davis Medical Center, where she was diagnosed with COVID-19. 
"It was exhausting," she said of her symptoms, which included fever, shortness of breath and coughing. "It takes your whole body- you feel like you weigh a ton." 
From UC Davis, she was transferred to a contingent of trailers at Cal Expo, a state-funded effort meant to safeguard members of the homeless population who test positive for the virus or who are at a high risk of contracting it.
The city of Sacramento received 63 RV-style trailers from the state in April. They are part of Gov. Gavin Newsom's $150 million funding plan to protect vulnerable populations, including people experiencing homelessness, during the pandemic. The state is also providing funding to lease motels, hotels and other facilities in partnership with counties and cities to provide immediate isolation placement and housing options for people in need.
"It's amazing," Lamkin said. "You just get to rest. It feels nice to walk around and close the door or open a window." 
Lamkin said she has a host of health issues that place her at high risk for the virus. 
"I wouldn't have survived on the street," she said  "I could contract it … or something physical would have happened. I don't have the ability to protect myself." 
On the streets, she lived in a state of feel that felt "scattered" and "frantic." She was unable to establish a routine, a deficit that daily threw her for a tailspin. 
"It scares me," she said. "I don't want to die like that." 
In her trailer, she is afforded with daily continuity. She goes to bed at 11 p.m. and wakes up at 6:30 a.m. She eats three meals a day that are provided by Goodwill Industries staff. She enjoys socially-distanced conversations with her new-found community. 
She can do her laundry in a washing machine instead of on the muddy banks of the American River. She can take a shower and use the bathroom without having to worry about which establishments with public restrooms have been shuttered by the pandemic. She buys boxes of popsicles to pass out to her neighbors. She loves the staff like family. 
"This has been a Godsend," she said of the trailer. "It gives me a sense of being settled. I get to regroup and take good care of myself. 
Sacramento Steps Forward staff and other agencies have conducted a housing assessment for Lamkin, who is eager to continue to chart a course to stability by having a home. She misses her community and her neighbors. 
She's among the large swath of homeless people who are being pipelined into housing through collaborative efforts of the Sacramento COVID-19 Homelessness Response Team. With various funding streams, local officials plan to transition up to 500 households into permanent housing stability over the next few months.
"There are the little things that those of us who have had homes in better situations take for granted," she said. "(When you have a home) no one makes you feel less than. When they see you homeless, they see you differently."