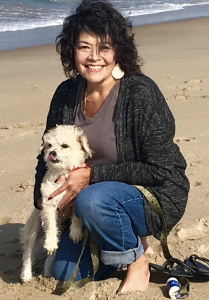 Through our Coordinated Entry & Outreach pillar, we work to prioritize building equitable housing resources for the Sacramento community. One approach we are taking to achieve this is by providing support to our vulnerable populations with Outreach Navigators. We sat down with Theresa Bible, one of the newest team members on our team, to learn about her experience and her role.
What will you be doing at SSF?
I am currently the navigator for the Meadowview community and Meadowview Women's Navigation Center.
My main focus is to provide outreach to the homeless population in the primary zip codes of 95822, 95823, and 95832. Once I have identified a client in need, I do my best to connect them to other resources in the community, provide assistance with documents, and make referrals to the proper agencies as well as referrals to the Meadowview Women's Navigation Center. Our priority is to house female residents from the Meadowview area.
What motivated you to join SSF? 
I had the pleasure of working with SSF at my previous employer and was impressed with how committed the team was to provide excellent service to clients and the community. I have worked with the underserved population for many years in a variety of capacities, including domestic violence/sexual assault, child abuse prevention, reproductive health, and environmental health. I have noticed many of the clients we work with have experiences with all of these situations. I feel very empathetic towards this population, and understand that many times people are homeless due to circumstances beyond their control. I am grateful to serve them and connect them to resources that will benefit them. They fill my cup and motivate me to continue to do the work I do. 
What do you wish people knew about homelessness? 
I wish I would not have to hear that "people want to be homeless because they want to be" as this is not always the case. There are a variety of reasons why people are homeless. I would say the most common situations that I run across are: criminal pasts that continue to follow them, meaning some clients who have felonies on their record find it very difficult to find a job, therefore do not have an income. They are not able to qualify for certain programs that provide economic security, they have no credit history, no credit score, and many are excluded from renting due to the nature of their charges. We do have clients that struggle with AOD/mental health issues, but we do not have enough openings for clients to obtain those services. We also cannot expect clients who have been homeless to be successful in housing situations without some sort of life skills training. Many do not know how to do basic everyday life functions that we take for granted. It would be valuable to invest time educating the client on budgets, bill paying, banking, and food prep/grocery shopping. I think our success rates for keeping them housed would be much greater.
What are you excited to do in your new role? 
Making connections to the organizations in the Sacramento area as well as the clients and eventually seeing those success stories. I am new to the area after living in Shasta County for 27 years. I worked with a variety of agencies there and saw the benefits of partnering with them to better serve the communities we work in. My heart has always been in nonprofits, working with underserved populations, and families in crisis. If not me then who? That's always been my thought. They are just like me–human–but in a different set of circumstances. I have had my share of setbacks in my life and can empathize with some of the struggles. When you have your own lived experiences you are a much better advocate. A quote I always keep in mind and that keeps me going is: "Speak loudly, even if your voice shakes." I try to do this as often as I can if I feel it is necessary and will make a difference.
---
We encourage you to learn more about homelessness resources on our website. You can also contact 2-1-1 for more information and services on homelessness.