2019 Continuum of Care (CoC) Program Competition Report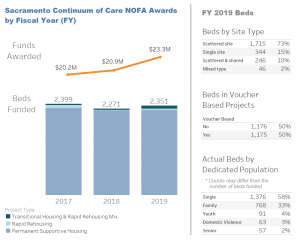 HUD awards discretionary funding through more than 20 grant programs that support the agency's initiatives. Those initiatives include affordable housing development and preservation, community and economic development, environment and energy, fair housing, homelessness, homeownership, rental assistance, and supportive housing and services.
The NOFA is an annual publication that outlines the type of funding available on a competitive basis. Projects are selected for funding based on specific factors and criteria. 
The NOFA is released to communities nationwide. Local entities undertake a review and ranking of projects in their respective communities. That ultimately results in a list of projects that is approved by the local governing entity and submitted to HUD as part of the national funding competition. Locally, The Sacramento City and County Continuum of Care (CoC) is tasked with investing these funds. 
The CoC has been awarded $23,349,292 in funding in the NOFA for the 2019 fiscal year. This represents an increase of 12 percent from the previous fiscal year's award. An increase in funding equates to the ability to maintain or increase available housing resources to the community.
For more information, please see our FAQ document.