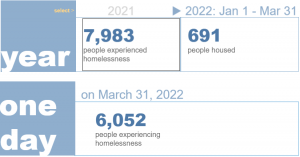 The Sacramento Homeless Response System public dashboard is available and currently updated through March 31, 2022.

This interactive visualization tool provides population and demographic information about people experiencing homelessness in Sacramento. This data is representative of only those individuals who has been entered into the Homeless Management Information System (HMIS) by providers. Not all homeless service providers use the HMIS.
The dashboard, developed through a partnership between the City of Sacramento, Sacramento County, and Sacramento Steps Forward, is a first step to publicly share data and information about people experiencing homelessness in an online format. It is intended to provide interested stakeholders and community members with insights about individuals and families that are accessing homeless services. 
The dashboard shows trends in data received from homeless service providers about people experiencing homelessness throughout the year in Sacramento. This information includes living situations; demographics; the number of persons entering and exiting homelessness; and outcomes on whether people are housed, sheltered, or continue to experience homelessness. 
This information complements data captured in the biennial Point-in-Time (PIT) Count, which documents both sheltered and unsheltered homeless populations. SSF is not conducting a traditional unsheltered PIT Count in 2021 to protect the health and safety of volunteers and people experiencing homelessness during the ongoing pandemic. Instead, we will utilize alternative data collection methods.
We recognize that the data and the dashboard itself are imperfect and come with inherent limitations, including the limited ability to capture data on all persons experiencing homelessness in Sacramento County. We know that while there are more than 50 agencies participating in the HMIS, there are more agencies providing services in the county that are not entering data into the system. 
We continue to work with funders and providers to increase program participation in the HMIS. We welcome additional homeless services providers joining the system so that we can build a more accurate representation of our county's unhoused residents. 
Providing this information is part of the intentional and ongoing work we are undertaking to inform the community we serve about the depth and scope of homelessness in the region with the best information available.
SSF and our partners are working diligently to analyze and improve upon the existing systems that serve our region's homeless population. We remain committed to solving homelessness in our community, with transparency as a guidepost through the process. 
The dashboard will be updated on a periodic basis. 
SSF is not responsible for insights gleaned from the dashboards by public users as data may be viewed and interpreted in a number of different ways. However, SSF staff is available to discuss the findings and implications.      
Have a question or a media inquiry? Send us an email!
More resources: