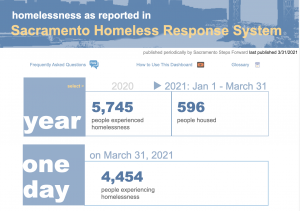 The Sacramento Homeless Response System Dashboard has been updated with data on homelessness from January 1 to March 31, 2021.
The dashboard shows trends in data received from homeless services providers about people experiencing homelessness throughout the year in Sacramento. This information includes living situations; demographics; the number of persons entering and exiting homelessness; and outcomes on whether individuals are housed, sheltered, or continue to experience homelessness. 
This data is representative of only those individuals who have been entered into the Homeless Management Information System (HMIS) by providers. The HMIS is a local information database used by providers to collect client-level information. 
We know that while there are more than 50 agencies participating in the HMIS, there are more agencies providing services in the county that are not entering data into the system and that not all persons experiencing homelessness are connected to services. 
We continue to work with funders and providers to increase program participation in the HMIS. We welcome additional homeless services providers joining the system so that we can build a more accurate representation of our county's unhoused residents.
Here are some key takeaways from this quarter's update: 
Despite the pandemic, our CoC and partners continue to provide stable housing solutions.
In the first quarter of 2021, our data shows that 596 people have moved into stable housing. Of those, 20 percent were enrolled in permanent supportive housing, 25 percent located other housing opportunities, and the remaining 55 percent were housed with friends or family or found their own market-rate housing.
Compared to last January, we have seen a 21 percent increase in the number of people who are sheltered. 
This trend is likely influenced by several factors. As a result of Project Roomkey, additional non-congregate sheltering resources have served our most vulnerable populations. A new women's shelter opened in Meadowview in late 2020, providing additional sheltering opportunities. Additionally, the city, county, and the Sacramento Continuum of Care have provided funding for vouchers for motel stays for people experiencing homelessness.  
While 5,745 people accessed the system in the first quarter of 2021, this represents fewer people than expected. 
We know this is influenced by the ongoing impacts of COVID-19, with fewer connections being made due to more persons and families isolating themselves while sheltering in place and fewer programs offering in-person services to protect the health and safety of providers and homeless populations. The data is also highly variable based on the availability of resources and services. 
We are working with our partners to support efforts for proactive outreach to increase connections to the system and services.