2020 CoC Housing Inventory Count
The Housing Inventory Count (HIC) is a way to assess Sacramento's capacity to provide housing for those experiencing homelessness.
It collects information about all the beds and units that are available on a designated night. Typically, the count is done once a year at the end of January. The count includes temporary shelter (emergency shelters and transitional housing) and permanent housing (rapid rehousing and permanent supportive housing). The HIC is also used to report which beds are available for individuals, families with children, veterans, transitional age youth, and those experiencing chronic homelessness.
You can learn more about the terms used on this page in our glossary.
The most recent HIC was conducted on January 31, 2020. The visuals below summarize the shelter and housing available as of that date. Click each image to enlarge the visual.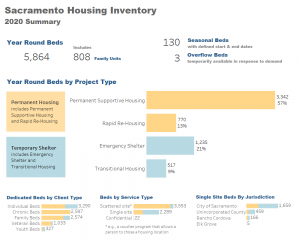 Information from past counts is included in the visuals below to help us to see trends over time.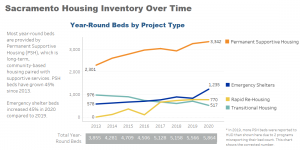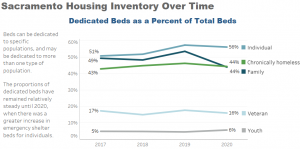 In addition, you can access a table that lists all the projects in the HIC group by the type of project (emergency shelter, transitional housing, rapid rehousing, or permanent housing) here.
To see the 2019 HIC data, click here.
For 2018 HIC data, click here.